Electralloy specializes in the manufacture of stainless steel, nickel alloys, copper-nickel alloys and high temperature alloys in the form of ingot, billet, slabs, bar, plate, coil rod, weld wire and remelt pigs. Nitronic® grades include: Nitronic® 30, Nitronic® 32, Nitronic® 33, Nitronic® 40, Nitronic® 50, Nitronic® 50HS, and Nitronic® 60.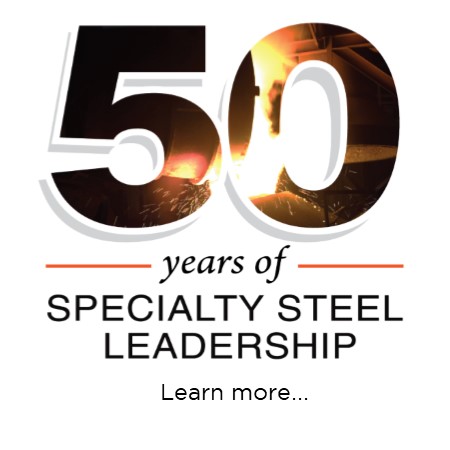 Utilizing heats sizes of 40,000 to 60,000 pounds, Electralloy has the capability to produce tailored grades and sizes that large mills frequently ignore.
A wide variety of mold sizes permit the production of ingots for wrought alloys from 13" sq. x 1,900 pounds to 70" round x 63,500 pounds and electrodes from 17" round x 6,500 pounds to 39" round x 60,000 pounds. Master alloy material is produced in either 15 pound pigs or cut weight mults from round molds.
Over the years, Electralloy has produced thousands of standard, modified and proprietary grades for investment casting, forging, extrusion and ring rolling, Electralloy can and has produced a full range of austenitic, martensitic and ferritic stainless steels, duplex stainless steels and precipitation hardened stainless steel and the Nitronic® family of steels. Electralloy can also produce a wide range of alloy steels, structural, low expansion, nickel alloys, copper-nickel alloys and high temperature alloys.
Many grades can be produced AOD, AOD+ESR, AOD+VAR, AOD+VAR+VAR, AOD+ESR+VAR. The method of manufacture is dependent on application, specification and critical customer requirements.